At the Surface Design show in February, Houzz, the online platform for home renovation and design, presented their top 10 kitchen surface trends for 2017.  Here's what the Houzz community are doing with their kitchens.
Trend #1 Dark Blue Cabinets
Not such a big leap from the dominant greys we've been seeing for the past few years, Dark Blue is growing in popularity, with Dark Green following closely on behind.
Trend #2 The New Metallics
The softer metals; brass, copper and rose gold,  have been key surfaces in interior design for a couple of years, and now we are seeing these move into more organic oxidised and rusted finishes.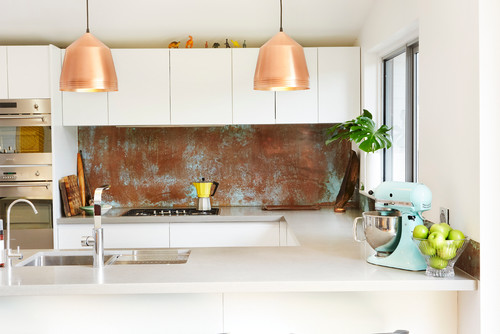 Trend #3 Concrete Softens Up
Again another popular surface gets a face-lift as the industrial trend becomes less popular in UK homes.  Concrete is becoming smoother and lighter in colour as the technology behind implementing this surface into the home is developing.
Trend #4 Marble Moves On
The depth of colour within marble is being celebrated in a move away from classic whites, showing the unique colouration that marble can bring to a kitchen
Trend #5 Solid Un-fussy Natural Wood Cabinet Styles
Capturing the natural beauty of wood instead of sanding and filling to a smooth finish
Trend #6 Plywood
Trend #7 Matt wins over Gloss
Trend #8 High on Herringbone

Trend #9 Antique Mirrors
Trend #10 Cork
Source:  Houzz and Surface Design 2017